Long time no see and suddenly it is right in front of you without any notice. Once I had the chance to taste this little piece of heaven and now we had a reunion. Street food reached a new level. In Germany there are a lot of different events dedicated to food trucks and street food. But this is not just any street food.
The quality has to be great. The food creation has to be innovative compared to the regular German street food like a Wurst or Döner. Common traits of great food stands at such a festival are long queues und quite a price on the meal.
Highlights are often anything smoked, which brings me back to my little wonder. It was a kimchi burger with chipotle-gochujang  pulled pork in a black sesame bun. Included toppings were a homemade kimchi, Korean pickles and a miso mayonnaise. This creation from Fräulein Kimchi (Miss Kimchi) is named the Korean Black Jack. I hope the picture below could capture at least a little bit of its tastiness. Fräulein Kimchi is currently based in Berlin and she recently opened a restaurant.
Getting a following and a fan base through participating in street food festivals around Germany seems to be a fairly new introduced concept and a huge step to modernize the street food culture in Germany. It is great so see how international and individual the food is. Another common trait is the personal touch to the food and its presentation. It is not enough to only have a counter and sell. There has to be a personal story behind it. We do not only want to go there for a fast grab. We want to experience the food and socialize. A food festival hast to be short adventure in a fun atmosphere. A sunny day and some music makes it perfect.
The Korean Black Jack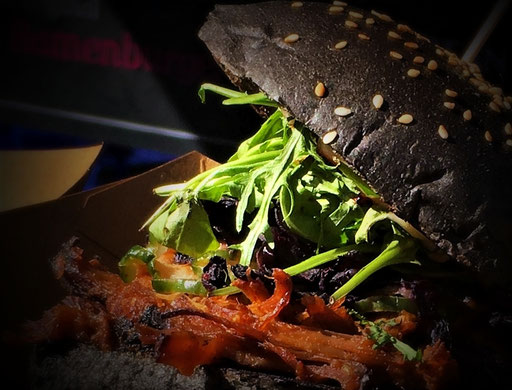 Now I would like to know from you: Can you imagine what the picture below portrays?  I'm looking forward to your guesses!
What is this? Put your guess in the comment section below!